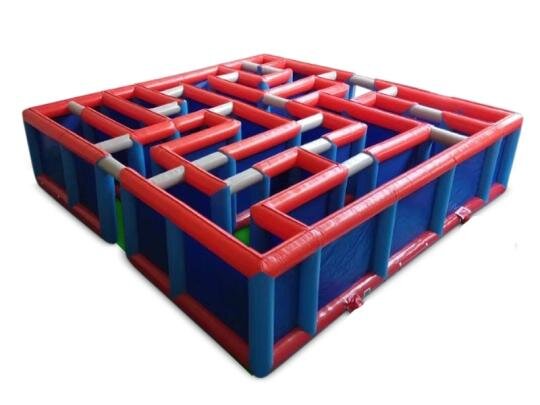 Giant Maze Runner
Actual Size: 30ft W x 30ft L x 8ft H
Setup Area: 35ft W x 35ft L x 10ft H
Outlets: 2




Giant Maze Runner
Welcome to the exciting world of inflatable mazes, where adventure and fun collide in an inflatable wonderland! Our inflatable maze rental offers an exhilarating and captivating experience suitable for all ages, making it the perfect addition to any event or gathering.
Step inside, and you'll be transported to a realm of excitement and mystery. The bouncy, cushioned walls ensure safety as participants navigate through twists, turns, dead-ends, and surprising openings. As you make your way deeper into the maze, each corner turned and each new path taken promises a new adventure.
Imagine the joy on the faces of your guests as they immerse themselves in this inflatable wonderland. Kids can race against each other, playing games of tag or hide-and-seek, while adults enjoy a nostalgic journey back to childhood, relishing the challenge and laughter that the maze brings.
Our inflatable maze rental is not just for private parties; it's also a fantastic addition to corporate events, school fairs, community festivals, and team-building activities. It fosters camaraderie, encourages problem-solving, and creates lasting memories that will be talked about long after the event concludes.
Safety is our utmost priority, and our inflatable maze is built to the highest industry standards. With secure entrances and exits, soft walls to prevent collisions, and constant supervision by our trained staff, you can rest assured that every participant will have a safe and unforgettable experience.
So, whether you're planning a birthday party, a school event, a corporate event, or a company picnic, our inflatable maze rental promises non-stop adventure and delight. Get ready to navigate a world of twists, turns, and laughter, as you step into an inflatable maze that guarantees a day filled with unforgettable moments and endless fun.